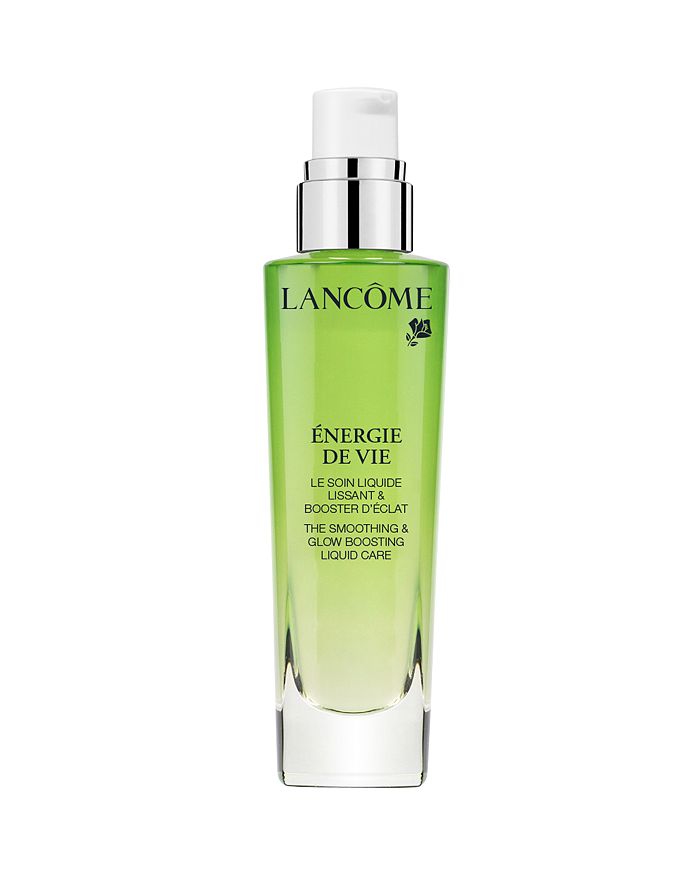 Lancôme
Énergie de Vie The Smoothing & Glow Boosting Liquid Care 1.7 oz.
product details
WHAT IT IS:
An energizing antioxidant liquid moisturizer that refreshes, protects and hydrates tired skin, for an instant dewy glow.

WHAT IT DOES:
Wake up your skin with a burst of anti-fatigue hydration. Loaded with antioxidant goodness for an instant glow, this liquid moisturizer fuels your skin for a refined texture and renewed bounce. Its unique formula is as hydrating as a cream, as concentrated as a serum and as light as a cosmetic water.

Formulated with Goji Berry, Lemon Balm and Vitamin E to provide antioxidant protection against free radicals. Inspired by Korean skin care routines, this water-infused fresh moisturizer works to address the first signs of aging, for glowing, refreshed and healthy-looking skin. Each bottle contains at least 30 leaves of Lemon Balm and 250mg of Goji Berry.

Today's signs of fatigue could turn into tomorrow's visible signs of aging. Lack of sleep, high stress, pollution, daily life excesses--all these environmental factors alter the appearance of the skin. Lancôme's Énergie de Vie is a simple, efficacious skin care routine that works to reawaken tired, dull skin, giving you an instant glow.

KEY INGREDIENTS:
• Goji berry
• Lemon balm
• Vitamin E

HOW TO USE IT:
Use morning and night after your Énergie de Vie cleanser and essence as your moisturizer. Ultimate Glow Routine: To maximize glow efficacy, start with Lancôme's Advanced Génifique as your serum.