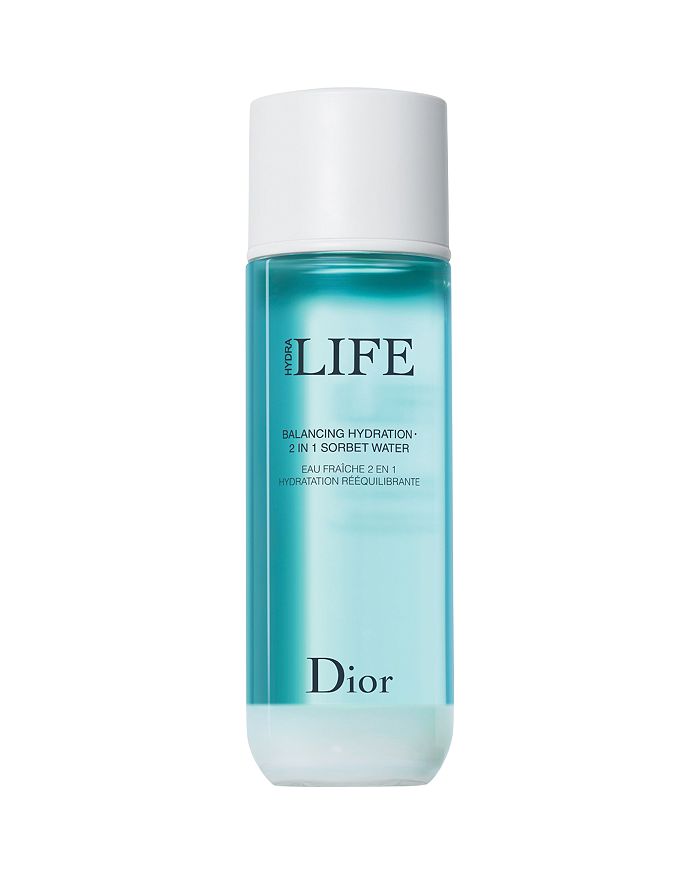 Dior
Hydra Life Balancing Hydration - 2-in-1 Sorbet Water 5.9 oz.
product details
Like a wave of freshness, this powerful toning lotion, enriched with prebiotics, helps hydrate and rebalance the skin while minimizing minor imperfections (pores and shine). The skin is moisturized and soft. Day after day, the skin looks visibly stronger and naturally beautiful. Used with the sorbet creme, this toning lotion improves skin moisturization.

• Mineral powders help minimize the appearance of imperfections.
• Jasmine water and mallow offer exceptional hydrating power.
• Haberlea reinforces the skin's natural defenses.

Instantly:
• The skin is moisturized 98%*
• The skin is mattified 88%*
• Minor imperfections are diminished 83%*
• Pores are tightened 83%*

After 4 weeks:
• The skin is rebalanced 97%*
• The skin's texture is refined 97%*

MALLOW, A PURE MARVEL FROM THE DIOR GARDENS
This unique, flamboyant, purpley-pink flower blooms in the Maine-et-Loire department in the Dior Gardens in Anjou, renowned for their extraordinarily fertile soil. Cultivated on a 30-hectare estate by the same family of horticulturists for over thirty years, Mallow is extracted using a green process--water extraction, enzymatic hydrolysis. Its efficacy, which remains consistent due to the cultivation and harvesting conditions, has been demonstrated in vitro and in vivo: Mallow boosts aquaporin synthesis to invigorate water circulation.

*In use test, 60 Chinese women.